The original design of Strawberry Shortcake and her cat, Custard was created in 1979 by a greeting card illustrator. and characters subsequently followed.
Kenner products created the first Strawberry Shortcake doll in 1979. At that time she resembled a typical rag doll, complete with freckles, a mop of red yarn hair, and a strawberry printed bonnet but the unique selling point was that, yes, she smelt of strawberries.
The Strawberry Shortcake line of characters each had their own fruit or dessert-themed name with clothing to match, and they each had a dessert or fruit-named pet. Like the Strawberry Shortcake doll, all the other characters' dolls had hair scented to match their dessert theme.
For example, there was Huckleberry Pie who was virtually the only boy and seemed to have been based somewhat on Huckleberry Finn.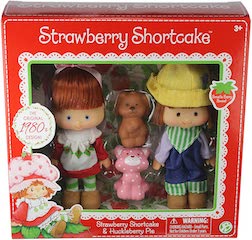 Then there was Blueberry Muffin who was Strawberry Shortcake's best friend and who had long blue plaited hair and a mouse called Cheesecake; look at her now down below!
There was Apple Dumpling, the baby and Raspberry Tart who, in the television programs, was capable of the odd cutting remark. This is what Apple Dumpling looked like back in the 1980s.
<< If you want to sell your vintage dolls online read our article here>>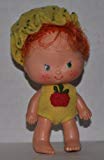 The characters lived and played in a magical world known as Strawberryland.
Strawberry shortcake has since evolved, and collectors and fans enjoy both vintage and new versions of these dolls and other Strawberry Shortcake merchandise.

Here at Strawberry Shortcake Dolls we have everything Strawberry Shortcake! Strawberry Shortcake dolls, games, toys, costumes, free coloring pages and links to games online, bedding and more! We include some how to guides for hair rerooting and customisation.