A doll collector's logbook is an excellent thing to have. If you enjoy doll collecting, sooner or later you're going to be faced with the task of figuring out what your doll collection is worth. It doesn't matter if you bought your dolls for a few dollars at yard sales, if they were heirlooms passed down from generations ago, or if you paid thousands at auction; over time doll collecting can cost a small fortune.
A doll collectors log book is a way for doll collectors to keep track and organize all the information about their doll collections in one place- including financial information like what each doll was purchased for (namely when it came into the collection), how much has been spent on repairs and maintenance so far, and more importantly, how much doll collectors think the doll is worth. A doll collector's log book also provides doll collecting information such as who made each doll (the doll company and/or artist), what year it was produced, what condition it is in, and other unique details about the doll itself- like if a doll had won any awards or important recognition.
Trying to throw all this information into one place can be difficult though; especially when trying to figure out how to do it. Thankfully we are currently putting together a printable log book for you to use. It has spaces for doll collectors to track their doll collection the way they want, and it includes pages with unique doll collecting information- like doll collecting awards and other doll collections related information.
As a doll collector's log book is very easy to use once you figure out how. The best way to get started is by getting a blank log book (or two) and then writing down any doll information you think might be useful. Document repairs and maintenance costs as well as what accessories the dolls currently have (and whether they are missing anything). Add in details about when the doll was bought or obtained, if desired, and keep track of things like where the doll is being stored right now- maybe even take pictures of your dolls so you can add them to the doll collector's log book for easier reference. We even recommend adding doll collecting insurance information such as doll appraisals (valuation) or other important doll collection details about any potential insurance in case a doll is lost, stolen, or damaged beyond repair.
There are several blank doll collectors logbooks on Amazon. However we have decided to put together a Strawberry Shortcake Doll collector's printable log book that anyone can download and use to their heart's content. And best of all? It's available to download and print at home. There are space for doll information and their pets. The printable doll collector's log book is an Adobe PDF document, which means you need Adobe Reader installed on your computer (it comes with most computers already, but if yours doesn't this is a link to download it for free). Click here to view or download a doll collectors log book printable that you can start using right now. It includes a front cover and logbook sheet. You can reprint as many logbook sheets as you need in A4 size.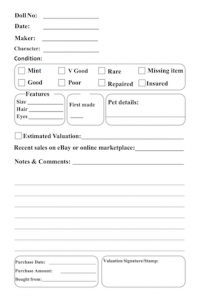 If you are an avid doll collector and would like to share your doll collection with other doll collectors then you can use the information to look up info you have previously recorded about your doll collections.