Overview
Peach Blush in general has the hardest to find items in the Strawberry Shortcake Collection. She was never produced as a regular issue doll, just the Party Pleaser and Berrykin. She also has two 1984 regular miniatures and one 1984 deluxe miniature. The deluxe mini is the hardest to find item of all Strawberry Shortcake items.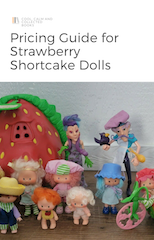 Are you thinking of buying or selling vintage strawberry shortcake dolls or collectables? In this guide, I will teach you everything you need to know about good practices when buying or selling online in the USA plus some information about enhancing your profit. I will cover where and how to sell them for the best price. I also include a pricing guide from March 2022 eBay.com sales to assist you in this process.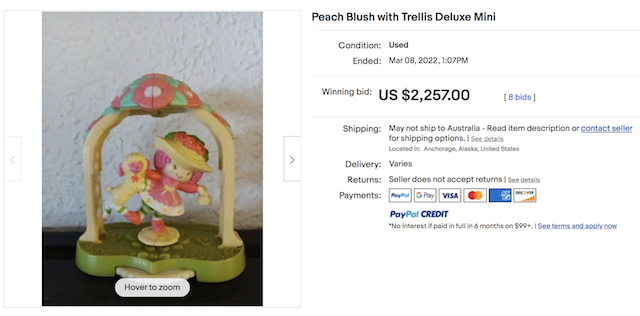 Mellonie Bell was also made into a large plush pet and is very rare.
Interesting Facts:
1.  She was never made into a regular issue doll.
2.  Her deluxe mini is the hardest to find SSC item of all.
3. There is a new reproduction Peach Blush doll available on Amazon and you can find the link and details here.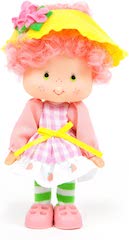 Price Guide
| | |
| --- | --- |
| Party PleaserValue: MIB $150 and up | |
| BerrykinValue: MIB $250 and up | |
| Peach Blush with mirror miniValue: MOC $150 | |
| Peach Blush with Green FanValue: MOC $200 | |
|  Deluxe miniValue MIB: priceless  | |
|  Plush Mellonie BellValue: $50  | |
| Regular Issue Shoes | Berrykin Shoes |
| | |
Sayings
1. Peach Blush with mirror:
  "Beauty sleep is berry good for you."
2. Peach Blush with green fan:
     "Parties are berry delightful."
Find prices on eBay.com: