CHILDREN'S BOOK WEEK AND HALLOWEEN STRAWBERRY SHORTCAKE COSTUMES
Children's Book Week is coming up in May and the annual event promotes literacy and encourages us to attend events at schools, libraries and bookstores. We can even host an event in our homes. However we can encourage a young reader to open a book and discover the world of reading, Children's Book Week encourages you to do it. Why not ask your child if they want to dress up as their favorite Strawberry Shortcake character?
Has your child ever wanted to dress up like her favorite Berry Girl? We have found some great costumes which look the part and will make their costume a success. They will look great when trick or treating.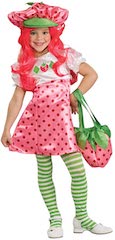 Rubies Costume Strawberry Shortcake Deluxe Costume available in T, S & M sizes for children, officially licensed and high quality. We think it makes an excellent Halloween costume and the strawberry bag is ready to be loaded with sweets.
Deluxe dress and striped stockings, bag, wig and hat!
Officially licensed Strawberry Shortcake costume

Size guide (measurements stated in inches).
Toddler Size| Chest 23-24 | Waist 22-24 | Child Size (#) 2-4 | Height 35-39
Size Small | Chest 27-28 | Waist 25-26 | Child Size (#) 4-6 | Height 44-48
Size Medium | Chest 29-32 | Waist 27-30 | Child Size (#) 8-10 | Height 50-54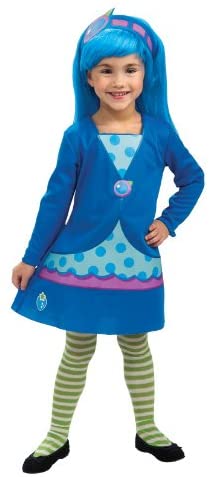 Visit the Rubies store here for all the below costumes:
Frutti Cutie Chef – A berry cute chef costume including a white apron piece with Strawberry's shirt icons that goes around the neck, a neon pink chef hat with tiny red spots and thick white band, and a pink apron with spots all over it and big strawberry pockets.
Sparkles and Lace – A very cute Strawberry Shortcake inspired dress. The top is a silky feeling material and pink with silk, shiny green sleeves and translucent green ruffles attached. The bottom part of the top resembles a corset with glittery green band shaping it and a gem Strawberry in the center. Tiny red polka-dots pattern it. The skirt is Magenta-red covered in glitter. The lining matches the sleeves.
Pink Princess – A very cute princess gown for any little berrykin Princess in training! The top is pink with tiny red polka-dots and green sparkly lining at the top where a green segment is, giving it a leafy appearance. The sleeves resemble strawberries. The skirt is long and a shiny, smooth, silky material and magenta colored with a small image of strawberry in the corner. On top of the skirt is a translucent puffed red with green frill-lining piece.
Fantasy Raspberry Dress – A cute, dark pink raspberry themed dress! The bodice is dark pink with a special image of Raspberry depicted on it between a very dark segment similarly shaped like a vest with very small glittery lining. The sleeves resemble a giant raspberry. Around the waist are a multiple colored green and white bow with big beads shaped to resemble a raspberry. The skirt is composed of multiple layers, a very dark one, an almost white soft layer, and stiffer layering on top with translucent and glittery material.
Toys R Us costumes
Shimmery Pink – A cute Toys R Us exclusive dress. The top is a smooth felt-like material and light pink with a single strawberry icon in the center. The sleeves are pink with tiny red spots. The skirt is ruffled and light pink matching the sleeves, with a translucent, pale pink ruffled piece on top with a thick magenta strip at the top attached to a frilly green bow ornament, and the bottom is white lined with tons of little shiny spots sewn on.
Keep your eyes out for a wig sold separately.
Browse a range of Child's costumes on eBay: