If you grew up in the 1980's, chances are you've met Strawberry Shortcake. Strawberry is a cartoon character originally used on greeting cards, but proved so popular she had her own range of dolls, posters, and later appeared on television and films. She's a favourite for collectors and, after having a few makeovers throughout the years, she's been restored to her former glory to mark her 40th birthday. Thanks for Five Little Diamonds for this short history.
A Brief Introduction to Strawberry Shortcake 
Strawberry Shortcake is the protagonist of the Strawberry Shortcake franchise. In the 1980's version of the franchise she lives in a shortcake, while in the 2003 version, she lives in a strawberry. 
She shares her berry bungalow with her sister Apple Dumplin', her pink polka dot cat Custard and her naughty dog named Pupcake. She had a filly named Honey Pie Pony in the 2003 series. 
In the 1980's, Strawberry was six years old. Her current age is implied to be teenage/young adult aged e.g. in the 2003 version, Strawberry is able to drive a car and in the 2009 version, she owns a shop called the Berry Café. 
History 
The original creator and designer of the character Strawberry Shortcake was Barbi Sargent while she was a contracted Freelance artist for American Greetings. She was originally referred to as "Girl with a Daisy" as she first appeared on a greeting card in 1973 holding, you guessed it, a daisy.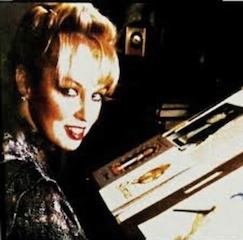 In July 1977 Barbi Sargent received an assignment to create four "leader cards" (which are cards created to test the popularity of possible new designs) depicting the "Strawberry Shortcake" character in full colour. The original design of Strawberry Shortcake and her cat, Custard was done in 1978 by Muriel Fahrion during her time as a greeting card illustrator at American Greetings. She was very popular among the public, and in May 1983 copyrights to Strawberry Shortcake were granted to Barbi Sargent from American Greetings Corporation.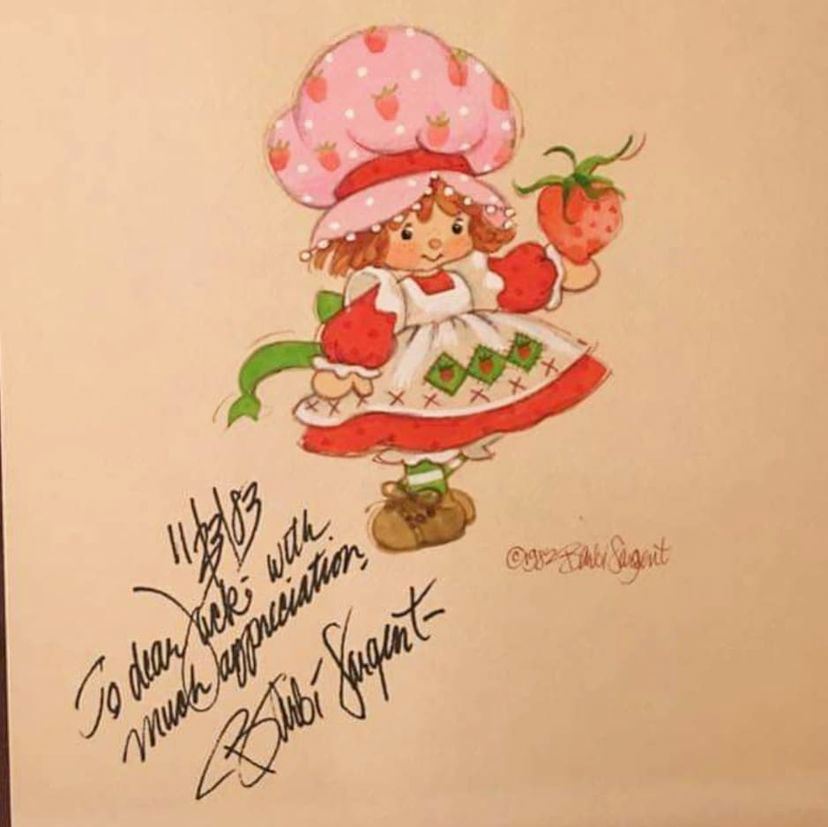 Lynn Edwards was the editor of the line and developed the personality profiles as well as the story line and philosophy. The first doll was a rag doll designed by Muriel Fahrion and created by Susan Trentel, Fahrion's sister. In 1979, toy manufacturer Kenner Products released the first Strawberry Shortcake doll.  She was a typical rag doll- complete with freckles, a mop of red yarn curls and a bonnet with strawberry print.  
 Cindy Mayer Patton and Janet Jones designed the other later characters of the classic Strawberry Shortcake line. The Strawberry Shortcake line of characters each had their own fruit or dessert-themed name with clothing to match, and they each had a dessert- or fruit-named pet. Like the Strawberry Shortcake doll, all the other characters' dolls had hair scented to match their dessert theme. The characters lived and played in a magical world known as Strawberryland. 
During the 1980's, Strawberry Shortcake became popular for young girls throughout the United States. At the time, there were many related products, such as sticker albums, clothing, a video game and many other products. Several TV specials were made featuring the characters, one each year between 1980 and 1985, by which time the characters' popularity had waned. Kenner produced no new dolls or toys thereafter. 
In 1991, THQ tried reviving the franchise by producing an updated line of Strawberry Shortcake dolls. Strawberry and five of her classic friends each got a makeover with new clothes, hair, and eyes. However, the line lasted just a year. 
In 2002, the franchise was revived again, this time with a revamped look by a different designer.  A television series with new home video releases was produced. Soundtracks for the episodes were also released. Bandai (along with KellyToy) was granted the manufacturing rights of the Strawberry Shortcake dolls and toys. For the first time in almost two decades, new video games were launched,  
A full-length feature film, Strawberry Shortcake: The Sweet Dreams Movie, premiered in 2006 and was released on DVD in February 2007. Hasbro began releasing new Strawberry Shortcake–themed toys beginning in Autumn 2009, after American Greetings rebooted the franchise. In February 2015, Iconix Brand Group acquired the rights to Strawberry Shortcake from American Greetings for $105 million. 
In May 2017, DHX Media announced that it would acquire Iconix's entertainment brands, including Strawberry Shortcake. 
In 2019 she officially celebrated her 40th anniversary, and a line of retro dolls were released to commemorate and for a whole new generation to love.
Resource Links:
http://nevergrowupdollguide.blogspot.com/2014/08/strawberry-shortcake-through.html