Strawberry Shortcake Value and Price Guide
History
The original design of Strawberry Shortcake and her cat, Custard was created in 1979 by a greeting card illustrator. and characters subsequently followed.
Kenner products created the first Strawberry Shortcake doll in 1979. At that time she resembled a typical rag doll, complete with freckles, a mop of red yarn hair, and a strawberry printed bonnet but the unique selling point was that, yes, she smelt of strawberries.
The Strawberry Shortcake line of characters each had their own fruit or dessert-themed name with clothing to match, and they each had a dessert or fruit-named pet. Like the Strawberry Shortcake doll, all the other characters' dolls had hair scented to match their dessert theme.
For example, there was Huckleberry Pie who was virtually the only boy and seemed to have been based somewhat on Huckleberry Finn.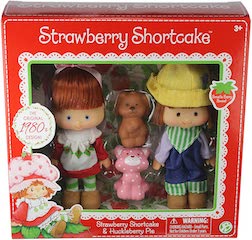 Then there was Blueberry Muffin who was Strawberry Shortcake's best friend and who had long blue plaited hair and a mouse called Cheesecake; look at her now down below!
There was Apple Dumpling, the baby and Raspberry Tart who, in the television programs, was capable of the odd cutting remark. This is what Apple Dumpling looked like back in the 1980s.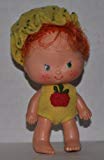 The characters lived and played in a magical world known as Strawberryland.
Value and Price Guide
What should you look for then considering the condition of your dolls? You should ensure there are no marks or obvious damage to the doll, hair or clothing. Clothing should be stain free and original for the doll. In order to achieve the highest value, the doll must be in its original box with any accessories (and a complete set). Some dolls are rarer than others, so keep that in mind.
Vintage strawberry shortcake dolls
What are your vintage Strawberry Shortcake dolls and accessories worth? Here are some recently sold items on ebay.
Clicking on the above image will bring up a list of recently sold items in the last few days.
Here is a general price guide, dolls can be worth around $30 and up and some rarer dolls, furniture and even houses can reach extraordinary prices! Visiting your local thrift shop regularly for vintage bargains could be a great idea if you know what to look for!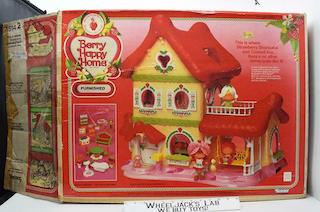 For example, there are many people wishing to acquire a piece of nostalgia from the 1980s, this vintage Strawberry Shortcake Berry Happy Home doll house can be yours through eBay for $1,167. It is essential to get the original box and complete set to ensure the best price. According to the packaging, "This is where Strawberry Shortcake and Custard live. A 'berry' beautiful five room house with a special selection of delightful furniture." The stucco-type house features a trellis with strawberries, front porch swing, mailbox that really opens, by windows, upstairs bedroom sun deck, and even a pink skylight on the roof. Furniture and dolls not included.
Rare Berrykins Dolls from the 1980s.
The Berrykin dolls were released in 1985 and were the last line of Strawberry Shortcake dolls to be produced in the original series. Some of these are worth more than $200 each. You can identify them easily as they have hair bows, instead of hats, and critters instead of pets. Each Berrykin critter had a little necklace around its neck with scented solid perfume inside. The Berrykin line also featured dolls with extra long hair and fancy dresses. Instead of the classic green and white tights, the dolls have pastel rainbow-striped tights. The Berrykin line featured a new character, Banana Twirl, as well as five dolls from previous lines: Mint Tulip, Orange Blossom, Peach Blush, Plum Puddin, and Strawberry Shortcake. There was also a Berry Princess, who was a friend or guardian of the Berrykin critters.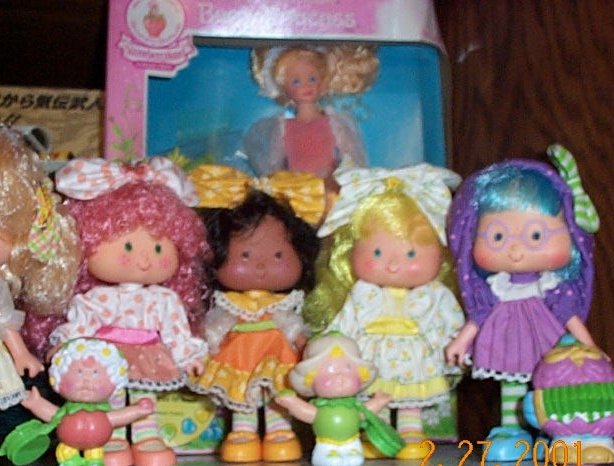 See Brown Eyed Rose for more info and images on this series.
Strawberry Shortcake 1980 Berry Bake Shoppe With Box & Carousel W/ Box 4 Dolls
The original Berry Bake Shoppe in box with 4 dolls is worth $225 and can be found here: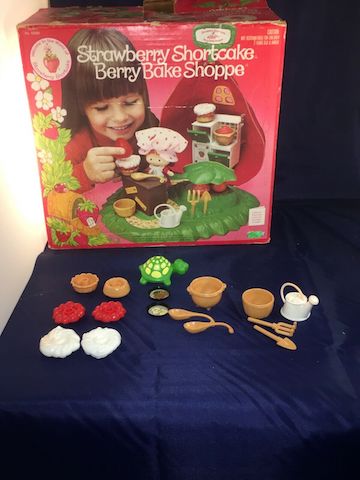 Baby Strawberry Shortcake Blow-a-Kiss Doll
Several more items are worth $200 each and they include boxed Kenner Baby Strawberry Shortcake dolls from 1982. She is a lovely doll, if you squeeze her tummy, she blows you a strawberry scented kiss. See the listing here:
Here are some more articles about Vintage series:
Here are some Strawberry Shortcake items available above $120 on eBay: