Strawberry Shortcake dolls are a popular toy. They have been around for decades and the demand is still growing! If you have one that you want to sell, it's important to find out what its value is in today's market. We've compiled all of the information on where to sell or trade strawberry shortcake dolls here so that you can make an informed decision about how to sell your doll.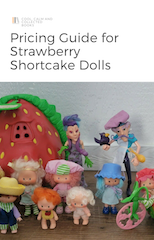 We also include some tips for sell to prepare their doll for sale and make sure they maximise their views and they can sell it for the best price! In addition to that, we have information below about where else you can get them from and how much they cost there too! If you've got one in your hands that isn't up for sale yet, keep reading – our blog post will answer any questions about selling your Strawberry Shortcake dolls.
Selling Your Doll
Want to know how much is it worth? Look at our listings below from eBay to see price whether your character is listed online and use this as a guide. Remember that condition also matters and take this into consideration when pricing your doll for sale.
What should I price my doll at? Do not offer your doll on an auction price for $1 and hope that the bidding will get it up to $35 or $50. It could sell for $1 if you are unlucky. The ebay system may suggest a price to you, you can price it above this level and hope to sell it in 1 or 2 bids. This is particularly important if you know that your doll is rare. If it doesn't sell the first time, then you can drop the price to a lower level suggested by the eBay website or a price you have seen similar dolls sell for before.
I know there are some Strawberry Shortcake dealers who buy dolls singularly or in sets for a cheap price online. They then clean them up and spot wash their clothes, replace missing shoes and then resell the dolls online. They have a stash of clothes and accessories to make the dolls complete. The last thing you probably want to see is a dealer buying your doll and then reselling it later for a tidy profit.
Preparing Your Doll for Sale
Pareparing your doll might take a day to do properly. Don't forget their outfits either; if there are any stains they need to be carefully spot washed to remove them. If you decide to iron their clothes, it might be better to cover them with a teatowel first and try the lowest setting. You don't want to damage their vintage clothes. This makeover might be just what she needs to make her look her best!
Don't forget to brush her hair and don't panic if it is matted- as any tangled tresses are less important when your Strawberry Shortcake character doll is wearing a hat.
Remove Musty or Smoky Smells From Dolls
Give the dolls somewhere to air for a few days. This should undercover and not in a place where they can get wet from rain etc.
Put the doll into a closed plastic container with baking soda or new kitty litter to absorb the smell. Putting them on top of a cloth, placed in a new kitty litter tray could do the trick. Don't let your cat 'go' in there though!!
Don't attempt to use Febreeze to mask the smell if you plan to sell the doll. Some people find it offputting, just like a musty or smoky smell.
If you are posting the doll, keep in mind that smells can intensify when shipped in bubblewrap and the first wiff could be very strong. After that the smell will diminish.
Some people carefully wash doll clothes and try to remove stains by handwashing in cold water.
Cleaning your Doll's Pet
Does your doll have a pet? You should clean it with dishwashing detergent and an old toothbrush to get rid of grubby marks.
Websites to Sell Your Doll
The popular ones are: eBay, Amazon, Craigslist
Websites to Sell Your Doll: If you're not looking for a buyer right now then don't worry – these sites will keep your listing up on them until someone buys it or requests more information from you.
eBay: Sell on eBay gives you the option of specifying a price range and if you want to sell your Strawberry Shortcake Doll for less than $100 then this is the site for you.
Amazon: Amazon will ask that all listings be over $25 but they also have an amazing "Boxed & New" section which could help find buyers who are looking specifically in those categories. The downside with Amazon is it's not as popular as some other sites so there might not be many people checking it out at any one time.
Facebook Marketplace or Craigslist: It can sometimes be difficult when buying or selling from someone online, especially when you haven't done it before and don't know postage posts etc – but with Facebook Marketplace or Craigslist, once your item has been sold then whoever bought your doll must pay when they pick it up in person. Local can be easier. This way you don't have to worry about sending your doll in the mail.
eBay: Now, eBay is great because they offer a number of different categories where people are looking for Strawberry Shortcake Dolls. The downside with this site is that items do not sell right away so there's no telling how long it will take before someone decides to buy yours.
Poshmark: This app has been gaining popularity over the years and more than likely if you're reading this article then Poshmark might be a good bet too! They allow listings up to $100 which makes them perfect for selling those high-quality dolls – I haven't used this app before so I am not sure whether it gets good prices or not.
Our new Strawberry Shortcake Doll Collectors Logbook PDF is a useful way to record your collection and current values and includes a front cover and logbook sheet to print at home.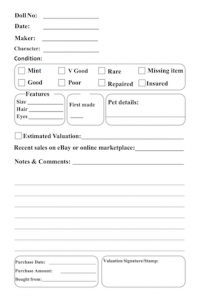 Obtaining the Best Price for Your Doll
What do I need to remember to sell strawberry shortcake dolls for the top price?
Most collectors want dolls in their original boxes, preferably unopened. Having a squahed box with your doll if better than no box. Also look to see that you have located the doll's tights, shoes, combs, perfume and pets etc. You need to have a complete set to get the best price.
Check our Miniature Price Guides for photos of many of the dolls.
You might want to freshen up the appearance of your Strawberry Shortcake doll by spraying a little bit of perfume on your doll. We have written a perfume guide about which perfume which matches the dolls original scent here.
Checklist
With a clear sense of what you want your final price point to be, take this simple checklist below before listing anything online.
-Have a complete description of the item with all relevant features (the below pictures may also help)
-Clean product getting ready for sale (worth noting they'll sometimes reject sales because it was incompletely depicted)
-Categorize your auction appropriately or suffer from decreased visibility in search results
Where can I sell strawberry shortcake dolls for the top price?
It really depends on what you're looking for. If it's a high-value doll then eBay might be the best option because they offer a number of different categories where people are looking for Strawberry Shortcake Dolls. The downside with this site is that items do not sell right away so there's no telling how long it will take before someone decides to buy yours. But, if you want to get rid of your doll as soon as possible Poshmark might be perfect – but again, I'm not sure whether or not they have good prices! It would all come down to personal preference and what kind of price range you're willing to go to.
The best thing to do would be to post yours on several sites and see what happens – but if you're looking for a quick sale I suggest the latter!
How Can I Check Whether I have a Complete and Genuine Strawberry Shortcake Doll?
These dolls were produced by Kenner from 1980-1987, they are based on American Greetings' animated cartoon series Strawberry shortcake and her friends that aired in 1981-1983. The doll was first introduced with pink hair ribbons as well as yellow flower dresses; later releases featured more outfits than before. You can check your doll against the pictures of other sellers and know for sure where are the markings are for different dolls and what outfits and pets came with your doll.
I have published a number of individual posts with photos of each of the vintage doll characters, including miniatures with revised information from the former Mint Tulip's Garden Tea Party website.
These photos will help you check if your doll is complete!
Orange Blossom Strawberry Shortcake Dolls Miniatures and Prices
Lemon Meringue Strawberry Shortcake Doll Pets Miniatures and Prices
Berry Princess Strawberry Shortcake Doll with Prices
Apple Dumpling Strawberry Shortcake Dolls Miniatures and Prices
Peach Blush Strawberry Shortcake Dolls Miniatures and Prices
Huckleberry Pie Strawberry Shortcake Dolls Miniatures and Prices
Plum Pudding Strawberry Shortcake Dolls Pets Miniatures and Prices
Sour Grapes Dolls Dregs Miniatures and Prices
Guide to Mint Tulip Doll Features with Prices
Blueberry Muffin Doll Pet Features with Prices
Purple Pieman Doll Berry Bird Miniatures and Prices
Baby Needs a Name Doll Features and Pet with Prices
Photographing your Doll for Sale
Here are some excellent examples from Facebook Marketplace but you can reproduce this on eBay, Amazon or Craigslist. Good luck!